Blog
August 10, 2022
OKR Superpowers – Part 3 – Rhythm
3 min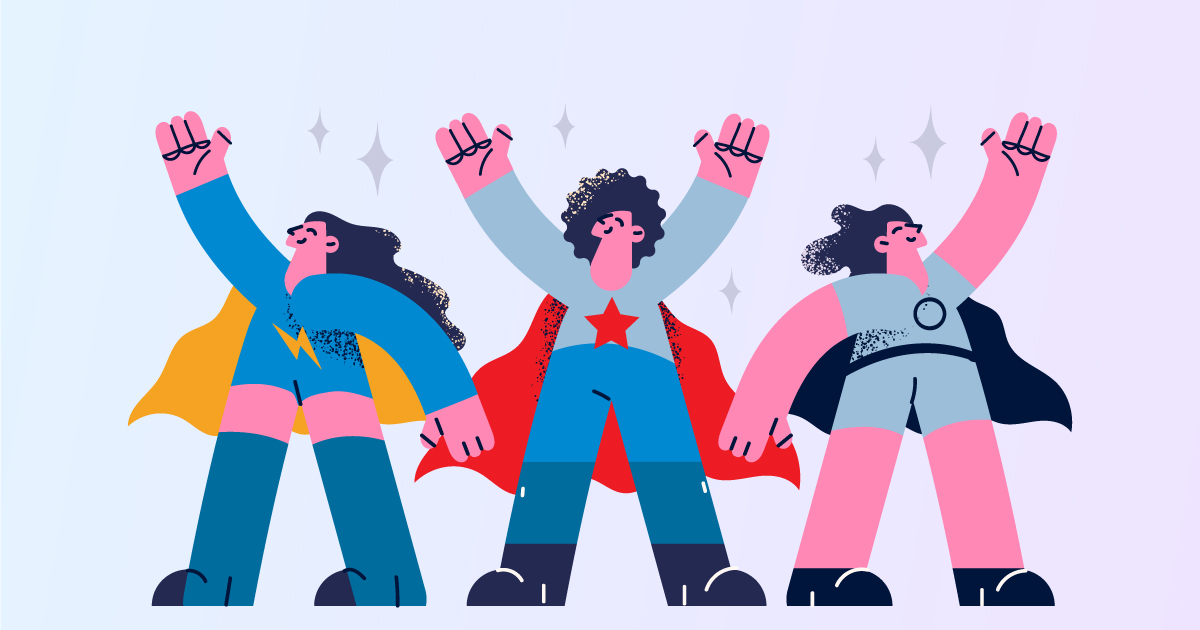 Here, we are back, continuing with the series on OKR Superpowers. After learning how your organization can leverage focus and alignment, looking at the third installment focusing on rhythm is fascinating.
Did you know more than 60% of leaders believe their organization is only good at crafting strategy? Around 50% of leaders opine their organization to be good at implementing strategy, while around 35% report their organization to be poor at strategy execution. From these figures, can you find out what your organization is missing? Well, it is rhythm.
What is Rhythm?
As we try to define rhythm, one of the OKR superpowers, we understand it as a strong cadence of communication, action, and accountability to ensure the successful accomplishment of organizational goals. As an organization, you must track your OKRs from output to outcome. Regardless of individual and company OKRs, they are tracked through the metrics set when writing them. Are you on track to meet an objective? If not, why? You get answers to these questions when you have one-on-one and team meetings weekly or monthly. You can choose cadence to track your progress on the objectives and key results. Doing so becomes easy and automated with simple, user-friendly OKR software.
Organizations marching to the same beat of the same drum can accomplish their goals at a rapid pace.
How to Make the Most of the Third OKR Superpower – Rhythm?
Understanding time and information flows
Organizations must understand how time and information flow through the organization to get more rhythm and for a successful strategic implementation. Leaders must set a bigger-picture, longest-term, most inspirational set of goals and OKRs by following an OKR methodology. What is most important here is objectives, and key results should be cascaded down through the organization. Only then can everyone understand how their key results contribute to achieving objectives and key results of others. To explain it better, understand that a leader's objectives and key results are cascaded down to the manager next in line. The biggest challenge with strategy accomplishment is not mandatorily writing an inspirational plan. In getting people to execute the plan, information flow in the organization must take a bottom-up approach. In this approach, individuals and teams communicate to their department leaders and senior leadership about resources, decisions, and priorities they are working on. This way, the management understands what employees must continue to do to execute and achieve the strategy.
Developing a consistent cadence of employee communication
A communication cadence is a rhythm and frequency at which communication happens amongst people in an organization. Though this rhythm may not be the same for each team member, having a foreseeable and transparent communication rhythm not only improves the lives of your employees but also keeps their morale high. OKRs aid organizations engage their staff in strategic planning and execution. People in a company work together, gain the right rhythm during execution, and ensure effective collaboration and communication to deliver accelerated results. This becomes possible through monthly 1-on-1s and team meetings. Besides, there are individual direct reports at the right cadence, whether weekly, bi-weekly, or monthly. Leaders can thus access the right touch points to get the right resources and support for their subordinates. OKR software, like Unlock: OKR, makes a leader's job easy without flooding managers and executives with too many meetings.
Evolving our meeting mindsets
Leaders should also consider the meeting mindset aspect. Pay attention to putting your information into a system and using that system. This system is the OKR tool that makes goal setting, tracking progress, and goal achievement easy. Maximize your time meeting and be ready to adapt the old meeting mindset with a new one. Intelligent leaders focus on problem-solving and removing roadblocks. Employees thus don't have to waste much time in the meeting and can quickly get back to execution. The "Check-ins" feature of OKR software enables individuals and teams to answer a few questions and track their progress on their OKRs.These questions are:
What are the items or projects completed in a week?
What are some of the learnings and problems faced?
What are the items or projects to be completed next week?
Do you see any red flags to achieving your future projects?
Is Your Organizational Strategy up for Execution?
Remember, in the OKR cycle, the executing phase is key to developing your organization's rhythm of execution, a battle rhythm, if you will. In this phase, your organization can fall into the "Set-it and Forget-it" mode. To avoid that, engage in individual, team, and leadership behaviors. The objective here is to keep the speed and cadence of the organization's intended rhythm.
A sneak-peek into the three key activities in the Executing Phase: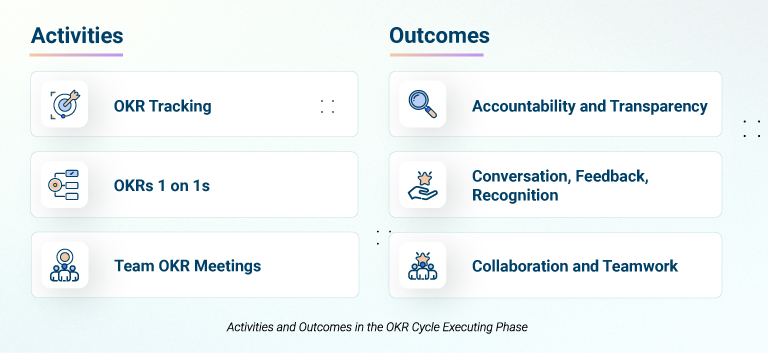 Key Takeaways
Understand how time and information flows and at the right time.
Make cascading and aligning a strategic habit.
Focus on outcomes and not just outputs.
Remove barriers to maximize the time spent on execution.
Consider using a system like an OKR tool.
Organizations can thus attain a higher accelerated strategic performance. You, as a company, aim to accomplish your OKRs and goals faster.
Stay tuned for OKR Superpower – Agility, the last part of the OKR Superpowers blog series.
---